Vertical Machining Centers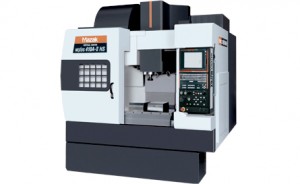 Here at GQ we have in hand top-of-the-line VMCs, Mazaks, HAAS's, and Fanuc Robo Drill's. With the vast capacity we have at our disposal you can count on us to deliver the top-quality parts you expect at top-notch speed.
To go hand in hand with the vertical machining, we have taken flight to the future of job shop innovation, and enlisted our highly-trained machinists/programmers to pursue the spectrum of 5-axis machining to enable us to manufacture complex parts done in one setup.
Lathe/Turn
At our company there are Prototrak lathes for quick and short production runs, and for the high-precision work we use Mazak Quick Turn CNC lathes with 3.0 inch thru hole capacity
CAD/CAM
We are currently using the latest in version of Mastercam X7 and have multiple seats.
This enables us to import a 3D file such as sldprt and generate a program quickly regardless of how complex the geometry and save  it to any one of the machining centers through our internal network.
Getting a program up and running can now be done in minutes.
Inspection
GQ Machine takes each finished component through an elaborate inspection process, using the latest engineering technology – from first piece to the final production run. All of our inspection equipment is maintained under current calibration to ensure job perfection.
We Have a Large Variety of Services
GQ Machine employs the finest CNC and conventional machine tools (Mazk-,Robo drill and Haas) on the market. Our CNC machining centers are equipped to perform full 5-Axis simultaneous machining of complex geometry. Our CNC lathes turn 12 X 42 inches and have a 3.0 inch bar capacity.